Spanish for Kids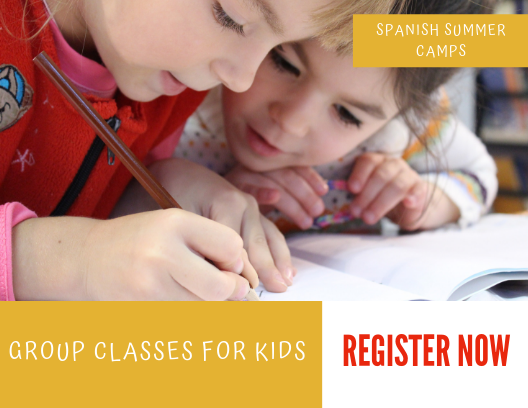 ---
Encouraging children to learn a new language is a great way to set them up with an important new skill for life. In our programs, children will have fun developing skills in pronunciation, conversation and vocabulary using different themes every week.
They will practice asking and answering simple questions and holding short conversations. Children will learn how to read, write, and Speak in Spanish. All classes are taught by University educated native speakers in a fun and unique environment.
We use our own Hola Spanish Centre materials and they are included in the course fee.
If you would like to book private lessons for your children, click here.
Children Programs 2019
Courses in Vancouver – Beginner
---
(6 to 9 years old)
---
July 15 to July 19 – Monday to Friday – 10:00 AM to 12:00 PM –Register– $195
Sep 10 to Oct 29 – Tuesdays – 3:30 PM to 4:30 PM –Register– $195
(10 to 14 years old)
July 22 to July 26 – Monday to Friday – 10:00 AM to 12:00 PM –Register– $195
Sep 10 to Oct 29 – Tuesdays – 3:30 PM to 4:30 PM –Register– $195
---
Courses in Surrey – Beginner
---
(6 to 9 years old)
July 22 to July 26 – Monday to Friday – 10:00 AM to 12:00 PM –Register– $195
Sep 11 to Oct 30 – Wednesdays – 3:30 PM to 4:30 PM –Register– $195
---
(10 to 14 years old)
July 15 to July 19 – Monday to Friday – 10:00 AM to 12:00 PM –Register– $195
Sep 11 to Oct 30 – Wednesdays – 4:30 PM to 5:30 PM –Register– $195
---
---
(6 to 9 years old)
July 22 to July 26 – Monday to Friday – 10:00 AM to 12:00 PM –Register– $195
Sep 11 to Oct 30 – Wednesdays – 3:30 PM to 4:30 PM –Register– $195
---
(10 to 14 years old)
July 15 to July 19 – Monday to Friday – 10:00 AM to 12:00 PM –Register– $195
Sep 11 to Oct 30 – Wednesdays – 4:30 PM to 5:30 PM –Register– $195
---
Online Registration Form for Children Programs
–